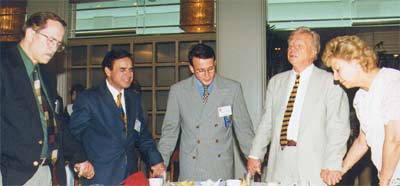 Partner with Dr. and Mrs. Reginald Klimionok in the vision that God has given them to reach the world for Jesus Christ, through Television, Crusades, and Leadership Conferences in Africa, Europe, Australia, United States of America, the Baltic States, Ukraine and Russia, etc. In Philippians 4, Paul speaks of a church that was in partnership with him. In verse 15 and 17 he clearly states that in giving, there is receiving. Other scriptures such as verses 18 and 19(NIV) share the awesomeness of being a partner in this kind of ministry and the blessing that it brings.
To download a printable partnering form click here.
Please send this form to one of the below mentioned options.
International Office





E-Mail


drreg@klimionok.com



Phone


+61-7-3341-1727



Fax


+61-7-3423-2712



Mail


Klimionok Ministries Int.
P.O. Box 2291,
RUNCORN,
QUEENSLAND, 4113,
AUSTRALIA



United States Office





E-Mail


duncan@klimionok.com



Phone


+1-281-361-6075



Fax


+61-7-3423-2712



Mail


Klimionok Ministries Incorporated
Suite #222, 526 Kingwood Drive
KINGWOOD,
TEXAS, 77339
USA